IN THE EARLY 1960's, a Tibetan lama, a charismatic and learned visionary mystic named Tulshuk Lingpa, led over 300 followers into the high glaciers of the Himalayas in order to open the way to a hidden land of immortality fabled in Tibetan tradition dating back at least to the 12th century. Fifty years later, Thomas K. Shor tracks down the surviving members of this visionary expedition and entwines their remarkable stories of faith and adventure with his own quest to discover the reality of this land known as Beyul.
This book tells the life story of Tulshuk Lingpa and his journeys around the Himalayas. I will not be giving away any story lines here and I invite each and everyone just to read the book. This story is somewhat controversial with some people feeling as though the Terton is genuine and others that he is a charlatan.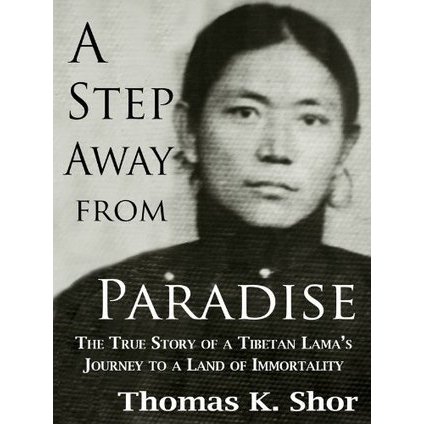 I personally don't really know and am not really concerned. What I personally found interesting is that the story goes against our preconceived ideas about Tulkus and Tertons and in a way the buddhadharma in general. From my limited knowledge I have come to see that Tulkus and Tertons are subject to somewhat the same ups and downs as the rest of us and that things don't always go according to plan.
In the history of the spread of Buddhism there are those times when things go wrong. I find it interesting that when occasionally things do go wrong that we tend to demonize either the person or the students which I find naïve and unfortunate, or elevate them to the status of gods when circumstances are good.
In this adventure I have met some of the people involved on both sides of the fence and listened to their stories. The book is fascinating and well written and I found it inspiring and engrossing. As Chogyam Trungpa Rinpoche used to say the Kagyu is known as the mishap lineage and even though Tulshuk Lingpa may not be a Kagyu he is definitely part of the Mishap Lineage.
A STEP AWAY FROM PARADISE is a riveting tale of adventure, intrigue and devotion. It deals with an aspect of Tibetan Buddhism that is in some ways more honest to the real spirit of Tibet than all the usual books on Tibetan doctrine and will, I am sure, be of interest to a wide audience. It is a fascinating account of a little-known charismatic figure that will challenge even the most skeptical mind and provide a fresh perspective on what we normally regard as reality. Like no other book I have ever read, A Step Away from Paradise is both unique and intriguing. Highly recommended.
–Tenzin Palmo.