Over the past half-century with the emergence of Tibet's treasury of literature into Western languages, numerous masters have appeared in translation seamlessly entering the stream of Western consciousness. Among these, of course, is Patrul Rinpoche, who exemplifies the efficacy of Tibet's science of mind as an authentic avenue of awakened path for evolution and inner development, a journey whose destination goes far beyond any one sectarian approach, even Buddhism its root manifestation.
For me personally, Patrul Rinpoche's colloquial and direct style very early on in my own spiritual journey resonated deeply when I encountered him in the late 1970's through one of Chogyam Trungpa's books, especially his famous Advice to Abu Sri followed later by Thinley Norbu's magnificent translation of Practice of the Essence of the Sublime Heart Jewel, the Propitious Speech from the Beginning, Middle and End. To this day when feeling discouraged or upset, both these works never fail to uplift and sustain my commitments.  Just as he himself found life-long solace in Shantideva's Bodhicharyavatara, I always keep Patrul Rinpoche nearby. And to this sacred cache I can now add Enlightened Vagabond for further inspiration.
Whether we know it or not, Patrul Rinpoche is already in most of our mindstream, especially if we are Dzogchen practitioners. Reading Enlightened Vagabond provides us with some details about this important karmic relationship we all share. One of the unique aspects of the book is the chapter outlining in substantial biographies the principle disciples of Patrul Rinpoche which directly link many contemporary masters to him.  His widespread influence is found in every school of Tibetan Buddhism.  
In the early 1990's when I first became active in the Dzogchen Community of  Chögyal Namkhai Norbu at Tsegyalgar after a decade in the Shambhala community of the late Trungpa Rinpoche, I came across another English translation of Patrul's advice. This version was called Advice from Me To Myself  by Constance Wilkinson, a Vajra sister with a similar background to mine. This particular translation, featured phrases translated differently than in the earlier version (some points having been clarified by Chögyal Namkhai Norbu and others by Khenpo Rigdzin Dorje),  seemed to capture the subtle nuances of Patrul's unique voice which hold meaning for even the uninitiated.
Patrul Rinpoche is already in most of our mindstream, especially if we are Dzogchen practitioners. Reading Enlightened Vagabond provides us with some details about this important karmic relationship we all share.Jacqueline Gens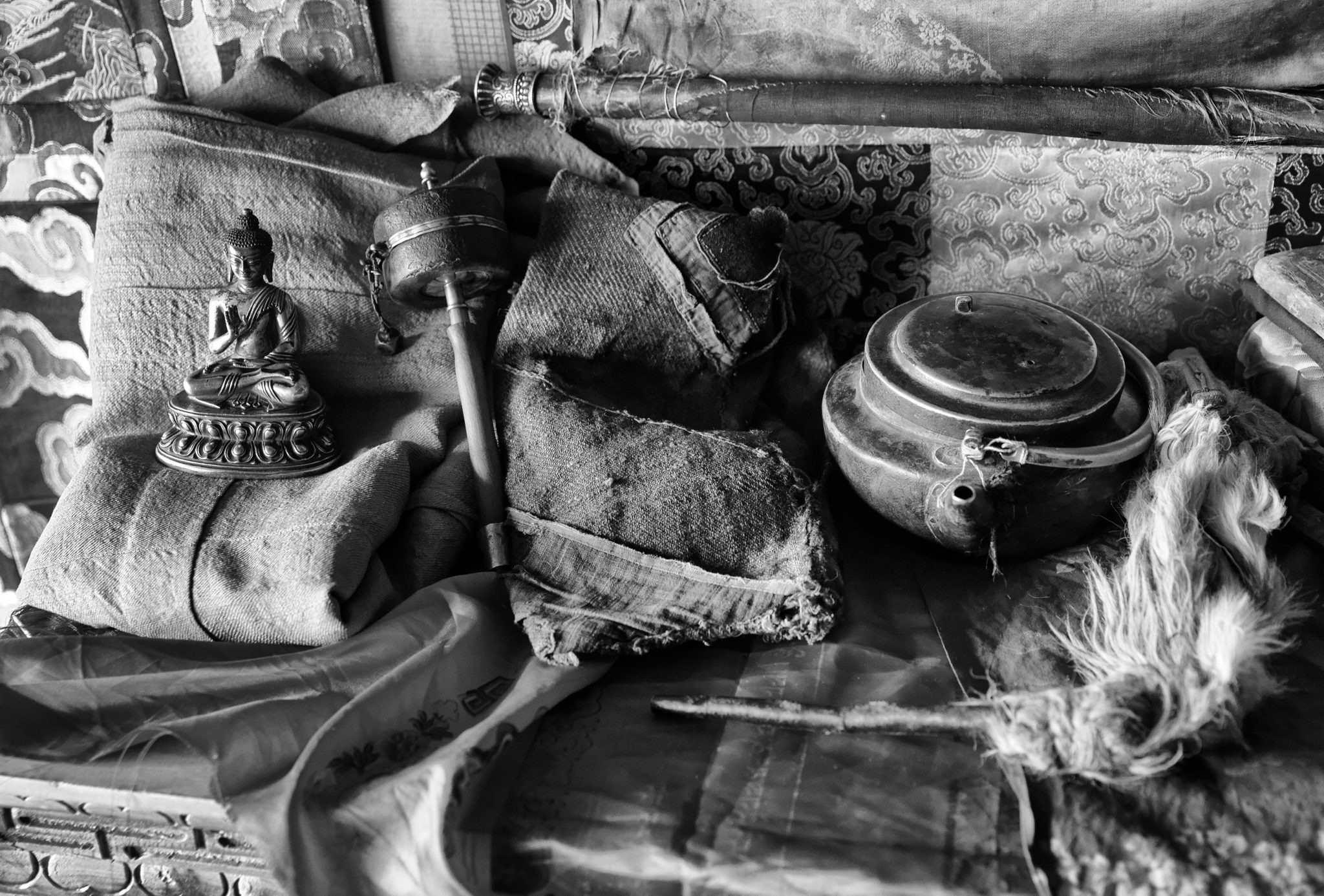 Patrul Rinpoche continues to shine through loud and clear like a mountain emerging from dense fog. I am reminded of the Cold Mountain poet of a thousand years ago, with a personal poetic voice so remarkable for its timelessness and contemporary tone that revels in the inseparability of samsaric failings tempered by an awakened mind, bodhichitta. This alone warrants him a place in the pantheon of world literature.
His self-deprecating humor and keen intellect combined with a vast heart pierce the human yearning for authenticity amid the sorrows of sentient life. His words go beyond poetic conceits and cultural baggage. In any case, I have remained wildly enthusiastic about the works of Patrul Rinpoche for decades now. The current publication is a much awaited event to carry his mindstream further into the 21st century. If you are unfamiliar with his work, you're in for a special experience when coming into contact with him. Please read him. If he is an old heart friend, Enlightened Vagabond will not disappoint!
Beyond his considerable literary methods, for me, Patrul Rinpoche represents the finest and purest strain of the hidden yogin tradition which flourished in Tibet as a counterpoint to the large monastic institutions with their wealthy edifices–especially among Dzogchen practitioners, whether lay or monastic, which means that he passed as an ordinary person living in great simplicity, eschewing material goods beyond necessity, honorific titles, landholdings and family connections. A man of the people, his legendary stories are much beloved by Tibetans today and passed down through generations. His penchant for anonymity as a vagabond seemed to allow him an unprecedented freedom to live life close to the bone without the kinds of worldly distractions hindering realization. More than any other approach, his life inspires us to dwell in authenticity, his greatest appeal. 
The stories collected here in this book illuminate mostly with great humor his extraordinary skill in relating to every class and upsetting conventional categories of hierarchy. A monk who nevertheless dressed as an ordinary layman, famous for his exemplary behavior, Patrul Rinpoche manifested his skillful means not through magical display, siddhis, but sheer wit tempered by his great compassion, as many of these stories indicate.
He once described himself thus:
Mad Yogi of the wilderness
Darling child of the world
Protector of beings
Nurturing loving kindness and bodhichitta.
Ricard and Wilkinson's collaboration proves an excellent presentation of the scope of Patrul Rinpoche's philosophical, aesthetic, and spiritual depth of expression. Considered a speech emanation of Jigme Lingpa, here are many verses hitherto unknown to Westerners.  While Ricard was the scribe who over thirty years collected and translated these stories and primary works from many of the greatest masters, Wilkinson brings them alive with her stunning language acuity and trained ear for poetic and dramatic syntax (she has an MFA in creative writing from Sarah Lawrence). As a poet, all I can say is that this is something that cannot necessarily be taught but is an innate capacity, which she excels in as an editor. She and Ricard have teamed up previously in The Life of Shabkar: Autobiography of a Tibetan Yogin, (SUNY University Press, 1994).
That old dog Patrul as he likened himself would no doubt approve. He lives on, not just in the stories and legends but also in our mindstreams far greater than any monument. Many thanks to those who preserved these stories and to the translator and editor who now present them so skillfully to a Western audience.  
Book Review by Jacqueline Gens, Highland Village, Shlburne Falls, MA, September, 2017:
Enlightened Vagabond: The Life and Teachings of Patrul Rinpoche. Collected and Translated by Matthieu Ricard, edited by Constance Wilkinson, Shambhala Publications, Boulder, 2017, 282 pages.
Photo: Patrul Rinpoche's relics: monastic upper shawl, prayer wheel, tea kettle, bellows, Buddha statue, kept at Khorma Olu by some descendants of Patrul Rinpoche's sister. (2016).