Prologue: As I wrote this personal reflection on the story of Guru Rinpoche, I continuously searched for the right moment to share my affection for his original and most trusted storyteller, Yeshe Tsogyal, Wisdom Lake Queen. In truth, there is no such thing as a right moment. She is everywhere in this essay as she is in the story.
We know the Guru's fierce and unflinching compassion because of the wisdom of Yeshe. She is the keeper of his secrets and the channel for his teachings. It is primarily their dialogues that we listen to when we enter a terma treasure. These exchanges between Guru and Consort unfold with affection, love, and inviolable trust. Whether we acknowledge this or not, when we bow to the Guru, we bow to Yeshe.
Buddhism's world, peopled by cosmic buddhas and intrepid bodhisattvas in myriad forms and dimensions, is the world we must enter to appreciate Guru Rinpoche.
— Erik Pema Kunsang
We began our journey with a seemingly simple question:
Who is Guru Rinpoche, the Precious Teacher?
Two years later­, after all of those miles, interviews, and endless explorations, there still are so many diverging answers. Each time I reach for a response, it invariably spins off in a new direction. Perhaps this is a metaphor for the story, the project, the subject: he just can't be pinned down. Guru Rinpoche's story defies containment, he is vast in all senses of the word.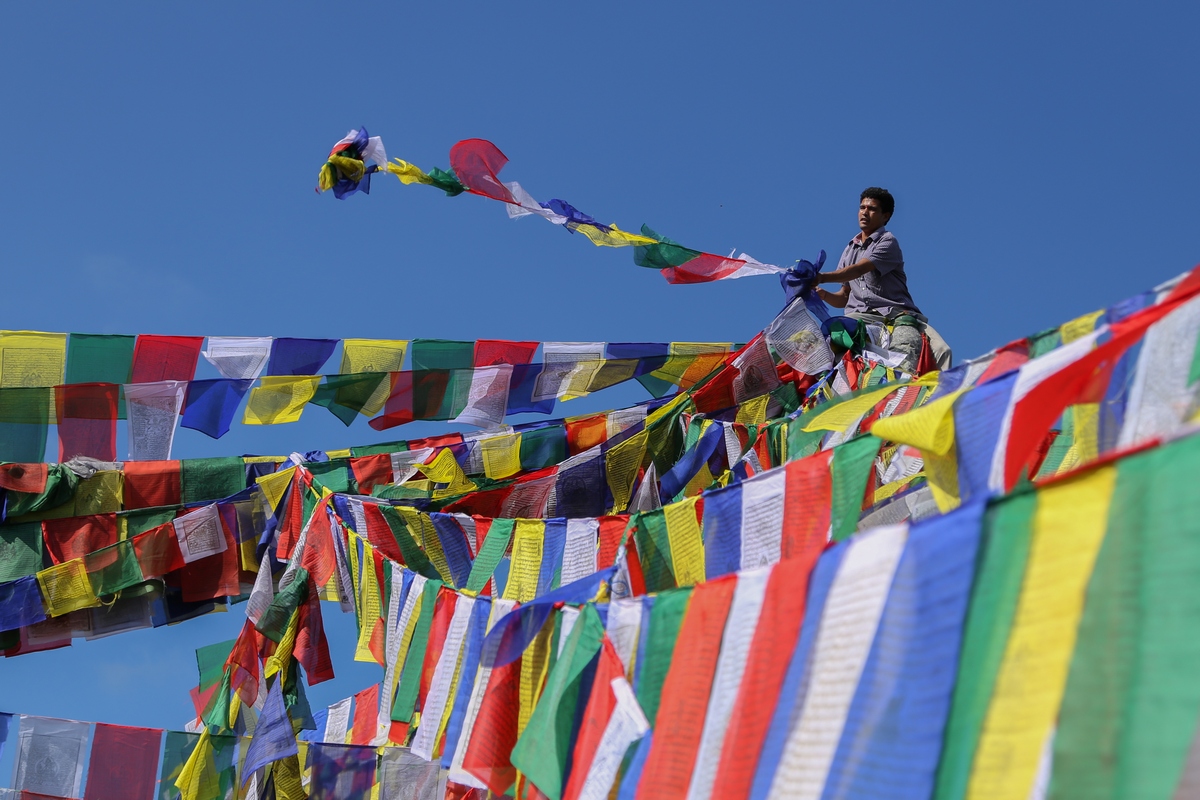 At least on the magical surface, there is a linear narrative. A man called Padmasambhava, Lotus Born, brings Buddhism to Tibet. It's the eighth century and Tibet is a wild and dangerous place. This man is powerful. He is a master at dealing with wrathful energies and spirits. He fights his way into the Himalayan Kingdom, subduing ferocious demons and malignant entrenched interests. He takes the King's youngest wife as his own and together they leave a legacy of spiritual teachings, buried in the recesses of temples, caves, and minds. And through their skillful meditation, whole mountains are sanctified and transformed–infused with enlightenment energy. Then, with the work done, he flies literally off to the south, where he continues to work on behalf of us all. And he becomes renowned as a Second Buddha.
This is one way to tell the story. There are many, many more, and we will select and share these in due course with our film, Precious Guru. For the moment, this moment, I will tell how I came to meet Guru Rinpoche and what I love about his story.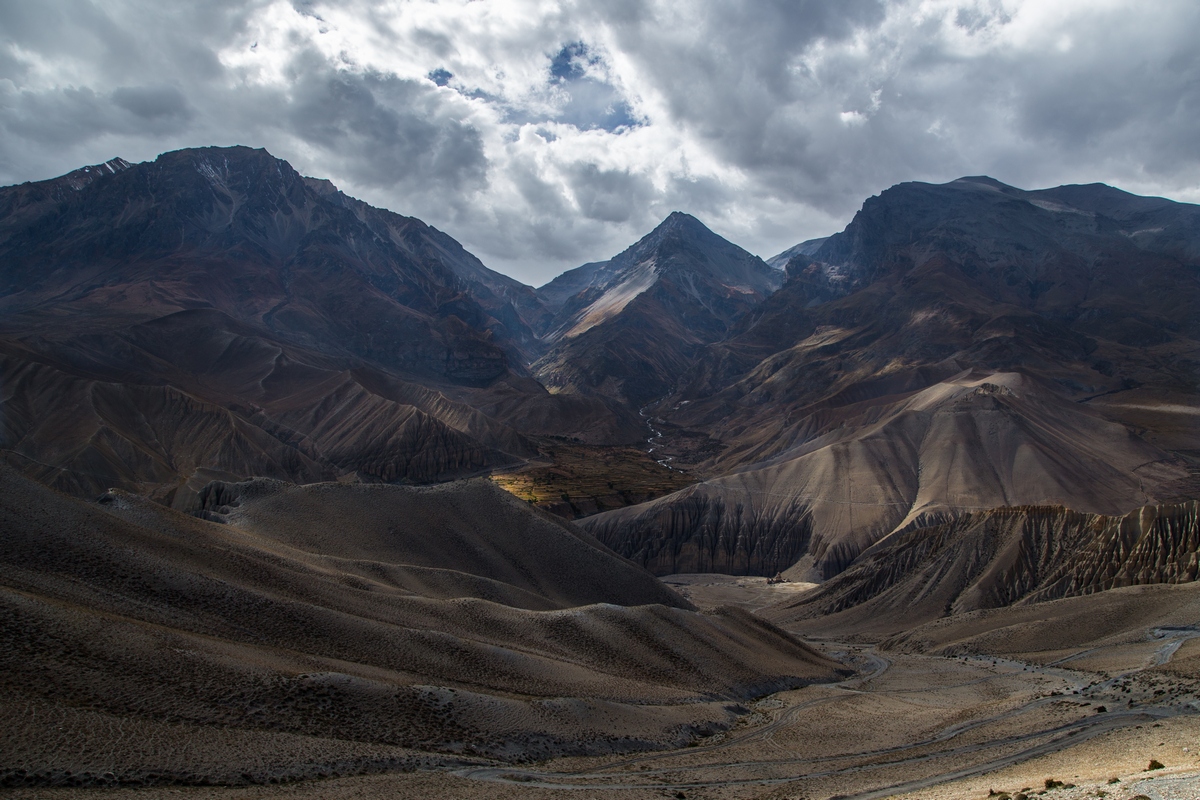 Such personal transparency could count as a simple measure of the story's transformative power. From the outset, the Guru's story has encouraged me to risk vulnerability in ways that are outside of my character. How else can I explain this crazy, irrational, project? My affection for this story, its magical and loving wisdom, is stronger than my cautious and private nature. Powerful affection carried me forward. It still does and I love that.
I believe this whole adventure began with a book, although my memory is a bit vague. I can't recall the title of the terma treasure nor initial impressions, but I must have been perplexed. For a non-practitioner such as myself, these sacred texts can be hard to access. Something akin to opening a mysterious map without benefit of a legend, bewildering, fantastical, otherworldly.
This story, however, is tenacious and persistent. It has showed up in my life time and again, in bookstores, libraries, dreams, and conversations. This was particularly true during my travels in the Himalaya, where the Guru's legend took birth. In the midst of those awesome mountains, Guru Rinpoche's story is everywhere, written indelibly into landscapes and minds. Towering vajra peaks, bubbling hot-springs, mandallic valleys, powerful meditation caves, blood-red cliffs, and treasure-filled burning lakes all form part of the Guru's narrative. Chapter after chapter of one big magical story, which has been discovered, nurtured, told, and retold by the Himalayan people. In Guru Rinpoche's universe, landscape both transforms and is transformed by people.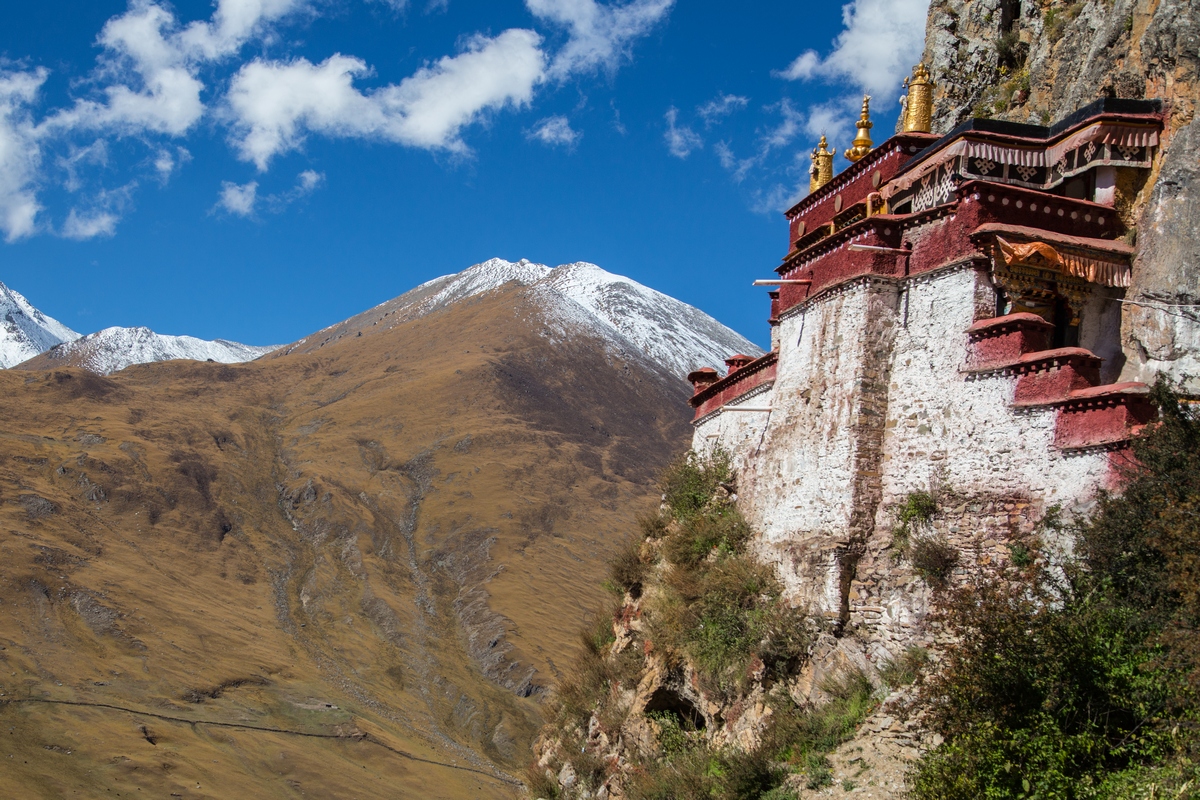 I was moved by the reciprocal generosity of this relationship. I still am. It speaks to our capacity for connection with a perceptive, wise, and sacred earth. I also am moved by its vulnerability, or I should say, our vulnerability to forgetfulness, apathy, and neglect. For both of these reasons, and many more, I became committed to sharing this story. The vision for the project was simple enough: employ multiple artistic languages to document the Guru's multifaceted story. Implementation, however, proved far more complex. It took nearly five years to assemble both the necessary organizational support and the artist team. By the time of our departure, we had swelled to eight, four women and four men, including a filmmaker, choreographer, writer, photographer, and sound artist, as well as a scholar in Tibetan Buddhism and a researcher. And then we went on a journey.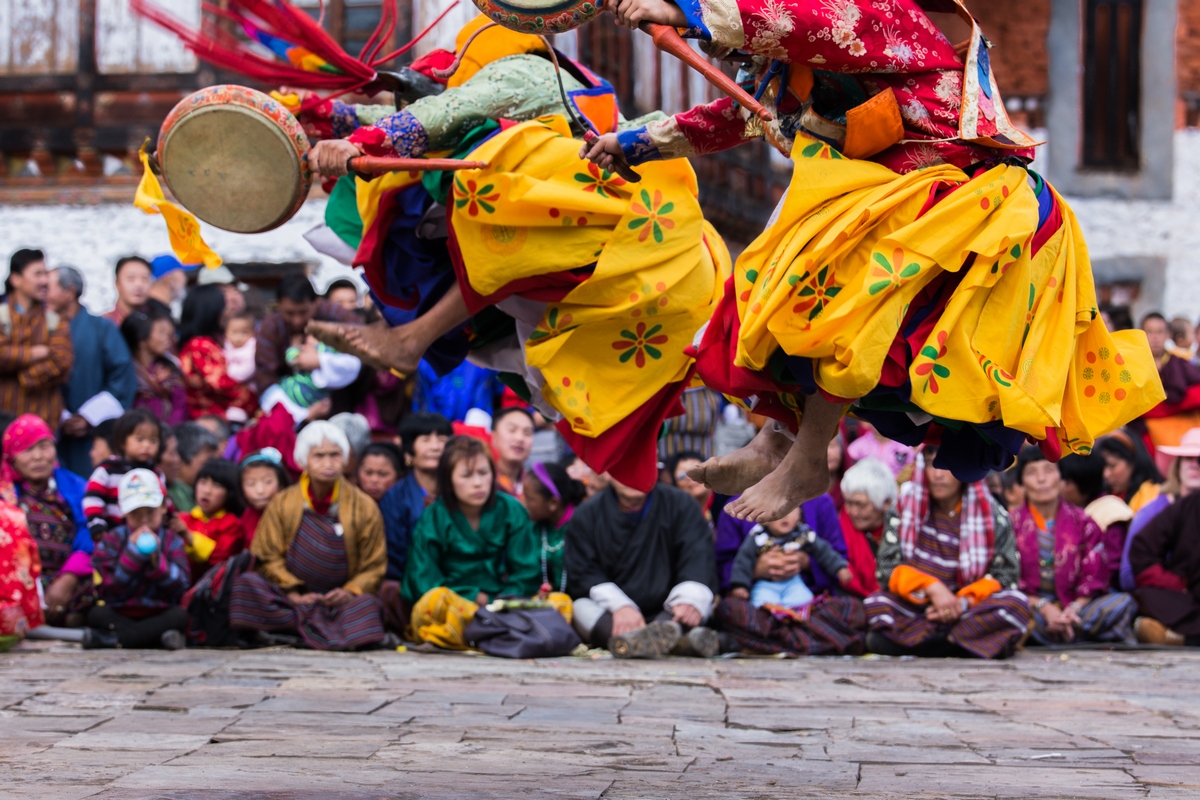 On September 7th, 2013, we boarded a plane in Burlington, Vermont. Over the course of the next eight weeks, we hurtled our way across Asia. Five countries and 16,000 miles, desert floors and mountain passes, planes, trains, busses and jeeps. One epic journey in search of the Second Buddha. Or, as in the spirit of the seven-line prayer: following in your footsteps, come and bless me with your grace.
In many ways our journey was flawless. Flights were on time and luggage intact. Our local guides were knowledgeable, gracious, and kind. We climbed into battered jeeps with bald tires, sketchy lights, and young studs for drivers, and we climbed out of those same jeeps with sound body and mind. The equipment worked without fail as we filmed stunning location after stunning location, and recorded insightful interview after insightful interview. Amazing, great, good fortune.
In other ways, our journey was all about flaws. We were a sangha, a community of artists and pilgrims, and we aspired to explore this story with creativity, reflection, and generosity. In practice, we engaged in a deeply human experiment, a fact that was accentuated by high altitudes, thin air, and constant, mind-boggling movement. We set out to document the story, and in almost all measures we succeeded with great skill and dedication. Along the way, however, the story also documented us.
For me, this was revelation of the most profound and personal kind. In the clear and reflective light of the journey, I encountered my demons over and over again as I, and my sangha mates, bared witness to my humbling limitations and vulnerabilities.
As challenging as this was, the exposure was a beautiful and precious opportunity, raw, karmic, and magical, and in some ways, the very essence of pilgrimage. A chance for unvarnished reflection, balanced by the graceful necessity of putting one foot in front of the other, and moving forward. Amazing, great, good fortune. Through it all, the laughter and the tears, we made art, lots and lots of art. Thousands of photographs, countless pages of prose and poetry, and more than a 200 hours of film, dance, interviews, and sound recordings. Everything assembled and recorded as immeasurable strings of 0s and 1s and loaded onto small, perfectly functioning, portable hard-drives. And then we returned home, same-same but different.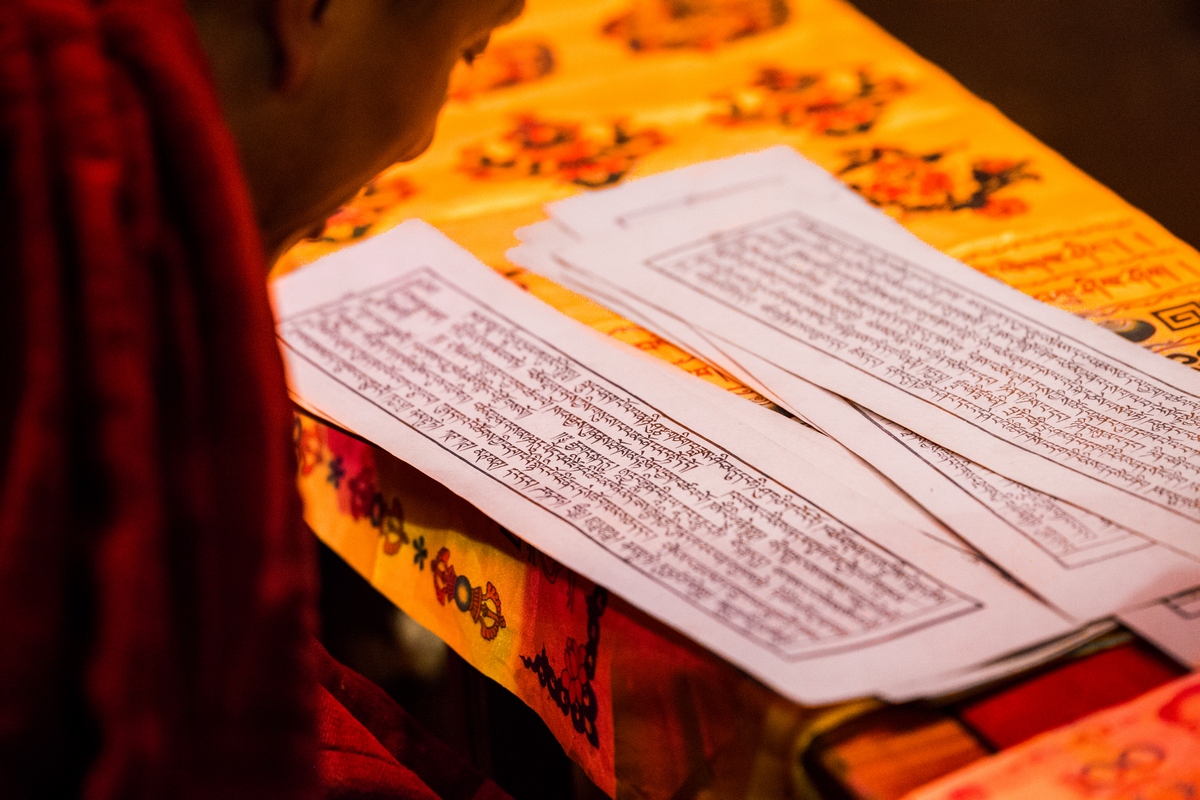 Two years on and we still move forward, one step at a time. We have created a touring multimedia exhibition that shares the Guru's story through film, photographs, writing, and soundscapes. We're also working on a multimedia dance performance inspired by both the story and journey. And we are finishing our feature-length documentary, Precious Guru: Journey into the Wild Heart of the Second Buddha.
Precious Guru will explore the life and legacy of Guru Rinpoche and his radical relevance to our present times. Inevitably, as with all films, we will have to make editing choices in the final cut of our documentary. In this narrowing process, we will mold, shape, and craft a narrative worthy of the subject: simple and complex and filled with layers of meaning. The film will also, I hope, stay true to the Guru's intrinsic compassion and quintessential vastness.
Finally, I hope the film will continue to ask the ever-unfolding question: Who is Guru Rinpoche? That simple query, which opened, and still opens, a world of possibilities, has found a warm and soft place in my heart. That's where this amazing journey began. We are conducting a crowdfunding campaign to support the completion of Precious Guru. If you would like to learn more about our project, please visit Indiegogo Campaign Page.
Photographs by Triptych Journey Photographer, Jon Schechner