"Sacred art is created in order to awaken our experience of the true reality. It should not remain unattended on a wall or shelf. We should interact with sacred art. Make offerings to sacred art. Pray and meditate in front of sacred art.  In Tibetan Buddhism, sacred art is one of Nirmanakaya's four manifestational powers.  It represents Buddhas, deities, and masters, each with a unique identity understood to arise from an unformulated spatiality. In some cases, it's is more than a devotee's support. It bestows liberation on sight. And in some instances, it is self-arising and not man-made.  In Tibet there are beloved stories of speaking statues and paintings."
–Lama Yeshe Wangmo (Jnanasukha)
I, Tsunma Jamyang Donma, as an artist that has dedicated her life to sacred art and sacred images, feel this quotation from Lama Yeshe Wangmo speaks to my heart of something that I notice is often overlooked. Very often these sacred images outlive their creator. They reach sentient beings whom we may never meet. But the impact on people's lives, their spiritual practice, and the connection with their own divinity, their innate buddha nature is direct, profound, and so very important. Not all beings relate to text, the obstacles of language, and culture, often get in the way of direct connection or experience. Sacred Art is therefore profoundly important. How can one comprehend a buddhafield, visualize all beings as buddhas, or have a glimpse of the nature of mind without experiencing beauty? Directly without interpretation, opinions, limitations or judgment.
As an artist, a Buddhist practitioner, a humble and foolish sentient being in a woman's body, I had the great fortune to realize my purpose early in life. Beauty, a responsibility that I take very seriously.
I trained in classical ecclesiastical glass painting through my teens and early twenties and when my root teachers Ven. Khenpo Sonam Tobgyal Rinpoche and H.H. the Dalai Lama came to the west I felt that I had finally come home. I was no longer homesick in my heart. After many spiritual experiences in my youth with no basis in traditional Judeo-Christian views, searching for answers, I had finally come home. And when first encountering a Tibetan Buddhist tangkha, a form of sacred Buddhist painting on cloth that can roll up for transport, I immediately knew my purpose, it was love at first sight.
Early on in my studies I had encountered concepts and approaches to what is generally known of as Color Therapy. Theories and research that indicate that color itself could heal and does. I learned also that many of the minerals that are used in traditional healing and herbalism were the very minerals used to create the colors in the glass. Here was an art form where light and color was the medium. Where the transmission could directly come through the distribution of light and pure color and a tradition that not only maintained sacred measurement, which was lost long ago in the western traditions, but an understanding of color, it's symbolic and energetic purpose.
The first stained glass Tangkha I created was a large 3' x 4' Medicine Buddha. I remember at some point that I felt stuck just getting started, to me I was working on something so sacred I dare not make a mistake. I had many consultations with experts in the field of Buddhist sacred art who encouraged me to take the leap forward.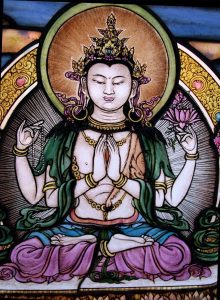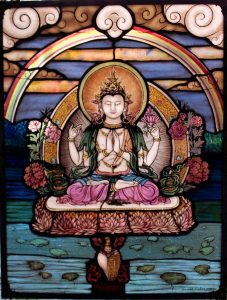 Chenrezig (Avalokiteshvara) The Buddha of Compassion
My original root temple, The Riwoche Tibetan Buddhist Temple in Toronto of which I am a founding member, was undergoing a massive statue project and renovation in the late 90's so I had the great fortune of meeting some of Tibetan Buddhism's most prominent artists and scholars and they all assisted me graciously. The great Emchi and translator Shakya Dorje, Lopon Kunchog Lhadrepa Arts Master and Director of Tsering Art School in Boudha and his student Urgyen Gyalpo, Chris Banigan whose stunning artwork, a unique form of Tangkha painting using computer graphics, graces many of the Dharma books available today, and of course Ven Khenpo Sonam Tobgyal Rinpoche whose standards of perfection and deep profound respect for sacred artwork truly impacted my vision and understanding. But there was one precious being who really gave me a push forward and became the rock of my foundation, this was none other than Nyoshul Khen Rinpoche, the great Dzogchen master himself.  In a private interview with him he told me with great dignity and very directly "Even making beautiful stained-glass windows is the act of a Bodhisattva if done with pure motivation."  And I had not even told him of my aspirations or previous training, he saw through.
From that moment on I awakened to the realization that all is intrinsically perfect, that I truly was exactly where I was supposed to be, doing what I was supposed to be doing. That as Nyoshul Khen explained many times in his pithy verbal teachings that "Everything, truly is mind," and this glimpse of realization anchored me into a state of devotion that is unshakeable as I travel thru this path of beauty and discipline. I was connected, the work had purpose, and the truth that it would benefit many beings simply by my pure motivation brought me great solace.
Years later, Ven. Dhyani Ywahoo, a Native American Elder of the Cherokee (Tsalgi) tradition, and a recognized emanation of Dakini Yeshe Tsogyal, by many great senior Tibetan lamas, would remind me yet again by pointing out with great joy " How wonderful! Do you realize that your work enables beings to have direct experience, which might not otherwise be possible?  This work will benefit the whole community."
Since those early days I have created many Stained Glass Thangkas. The work has taken me to many places. Into many practitioner's lives, their shrines, and to many Sanghas, nunneries and temples. To the nuns of Venerable Jetsunma Tenzin Palmo at Dongyal Gatsal Ling Nunnery in Himachael Pradesh, India. To Art shows organized by founding Director of DGLI Chrysanne Strathcos, one at Tibet House, and one Presentation at The Rubin Museum, both in New York City. To practitioners at Tashi Choling on the west coast of the USA, to Ven Dhyani Ywahoo in Vermont, to Alaska, to Gomde Cooperstown, and the wonderful mandala of Kyabgon Phakchok Rinpoche, to British Columbia to The Society of Buddhist Contemplatives, and to Riwoche Temple in Toronto just to name a few.
When first envisioning the Dongyal Gatsal Ling Nunnery and the stunning temple there, Ven. Jetsunma Tenzin Palmo stated "Stained Glass, they never had that in Tibet. So that will be a bit of an innovation. I think a beautiful idea: the sun streaming through Green Tara or a mandala. If they only had that in Tibet, imagine." The result two 36" diameter Stained Glass Thangkas by Tsunma Jamyang Donma are now featured in the extraordinary nun's temple at DGL.  ne Stained Glass Thangka of Prajnaparamita, Mother of Wisdom, and one of Green Tara, Mother of all Buddhas.
All stained glass thangkas are made on a commission basis. The most difficult part of the commission process for patrons is not the cost, but actually deciding what to order, which thangka to have made and then waiting, waiting, waiting. They do take a long time to make with an average of 2 years, but they are well worth it. The process is extremely detailed; it is after all based in a practitioner's personal connection to their practice. First I make an archive of several thangkas of the particular deity or deities the patron would like to have made in stained glass.
This is to follow most accurately the sacred measurements and form according to the particular teaching being requested. Then the patron chooses from these samples. They may prefer a particular school or style of thangka painting, perhaps a particular background, face or drapery style, they may wish to combine several images to arrive at the one that most represents their relationship with the visualization. At this point I render a drawing meticulously checking and double checking every aspect while also consulting with thangka painters and lamas. Then I translate the drawing into a pattern for stained glass. At this point the patron approves or changes the drawing. At this point each piece of glass is cut and ground very precisely to perfection. Each piece is traced with line work, etched and enameled often being fired as many as 5 times, in a kiln at 1225 degrees. Once the artwork is complete, each piece is wrapped in copper and soldered together with reinforcement and a zinc frame for hanging. Quite a slow and laborious process which, is always accompanied by hours of meditation practice and sometimes retreat. But it is all worth it. As I journey through the process of creating each thangka I am always amazed as the deity comes to life and when placed in the light, that first experience of the deity illuminated in stained glass is beyond words, always breathtakingly beautiful, even for me who has witnessed the coming together of all of the elements. And then I have to let them go, with some sadness, a departure from that state of being, and then I begin again.
I manage my own studio, Yulokod Studios, named after the pure realm of Tara, the female Buddha of compassion and freedom from fear. In a text from the book, Delog by Delog Dawa Drolma, the realm is described in beautiful detail. When I read the description of Yulokod it really encapsulated the experience that I hoped my work would bring to my patrons, a state of absolute beauty and peace. It was Tara that guided me originally to my Buddhist path, Tara was my first sadhana practice, and much of my life has been guided by Tara. I feel deeply in my heart that at this time on the earth, the pure feminine essence is so needed to bring about balance to our challenged planet, and the human species that dominates her. I noticed that most Buddhist practitioners were not even aware that Tara has a pure realm and that by choosing this name I somehow would bring this wonderful essence more into our physical world and our awareness.
Yulokod Studios is a storefront studio that is open to the public by appointment. Located in Galt, Cambridge, Ontario, a lovely architecturally interesting town, with the beautiful Grand River running through it, with 200 plus years of history, but relatively quaint and quiet. I accept commissions worldwide and the cost of the work is very reasonable for what it is. If you can tolerate the long wait in the cue. I would be happy to have the privilege of bringing a vision of your practice deity to life and beautify your shrine room or temple.
With deep bows of love, appreciation and gratitude. May you be well, may you be happy.