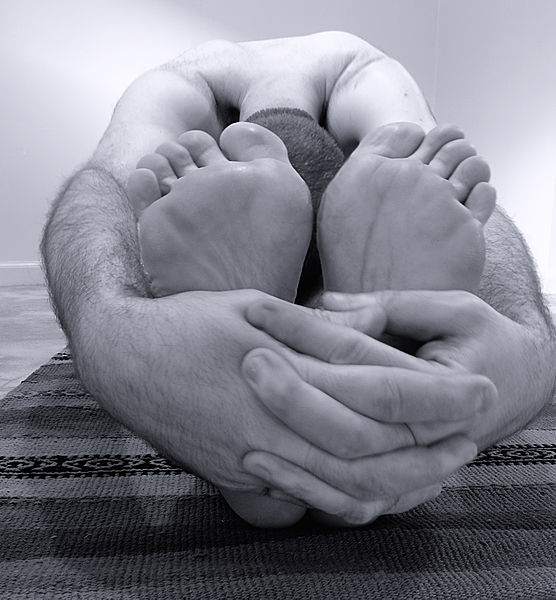 His legs are outstretched in length
while he sits upon the ground.
In action thus rendered passive.
His torso folding forward
with hands that touch the feet.
The body thus becoming halved.
His heart is parralel in its position to the earth
while forehead, nose and lips, face the ground.
Beast-like, postured horizontally, on all-fours.
He is not in defeat
He experiences victory
the kingdom called surrender.
The defines of his framework
within which, vision is sharp
like a picture frame
drawing you
into the art it holds.
if this structure is loose, haphazard, undefined,
can it support the eye to see?
if unstable contour directs the eye first here then there
where will the centre be?
his dicipline is the frame
it guides him to savor the art
until so absorbed by the vision
it overtakes his mind and thought.
He expands internally, becomes the art
expands externally, feeling the art.
In being the art how can he be called the witness?
In feeling the art how can he be called a passive observer?
In the centre of art, how can one speak of a frame?
where is the frame, the name, the guide
where is the discipline, the ritual
where is the witness, the passive
where is the here where is the there?
Joy, haphazard, undefined!
all qualities now refined,
freed from a role called negation
being now some sublime equation
perfect
lack of centrality
flows alive
---
Photo of stone by
Devonoday
Photo of yoga posture by 
Nicholas A. Tonelli