In the crisp, yet moist spring air of an early morning in 1991 while disembarking from Moscow train built in the fashion of mid 20th century at the Keleti Railway Station of Budapest, having successfully circumvented remains of the Iron Curtain would I then think that a few brief years later I will be kneeling in front of the Kyabje Drubwang Pema Norbu Rinpoche deep in the rural upstate part of NY and asking for his blessing?
Sure, it is possible to imagine, but also quite hard to really see at the time. Like a regular car ride North from New York City through endless woods, more woods and some more of the same, all to culminate at an opening with some corn fields to the left and right, few residences and finally a large symmetrical western structure with curious details of colorful carved dragons supporting corners of the roof and Dharma wheel upheld by the pair of deer above the front doors. It is a journey, in which you have to go the distance and apply effort to go one can say "into the wild" to end up in an autonomous island of Tibetan Buddhism in the middle of what feels like a perfect no-where. A very fitting metaphor for journey of life and knowing what plans to make, all apparently in order to end up in a place where one wants to be but does not quite yet know it exists.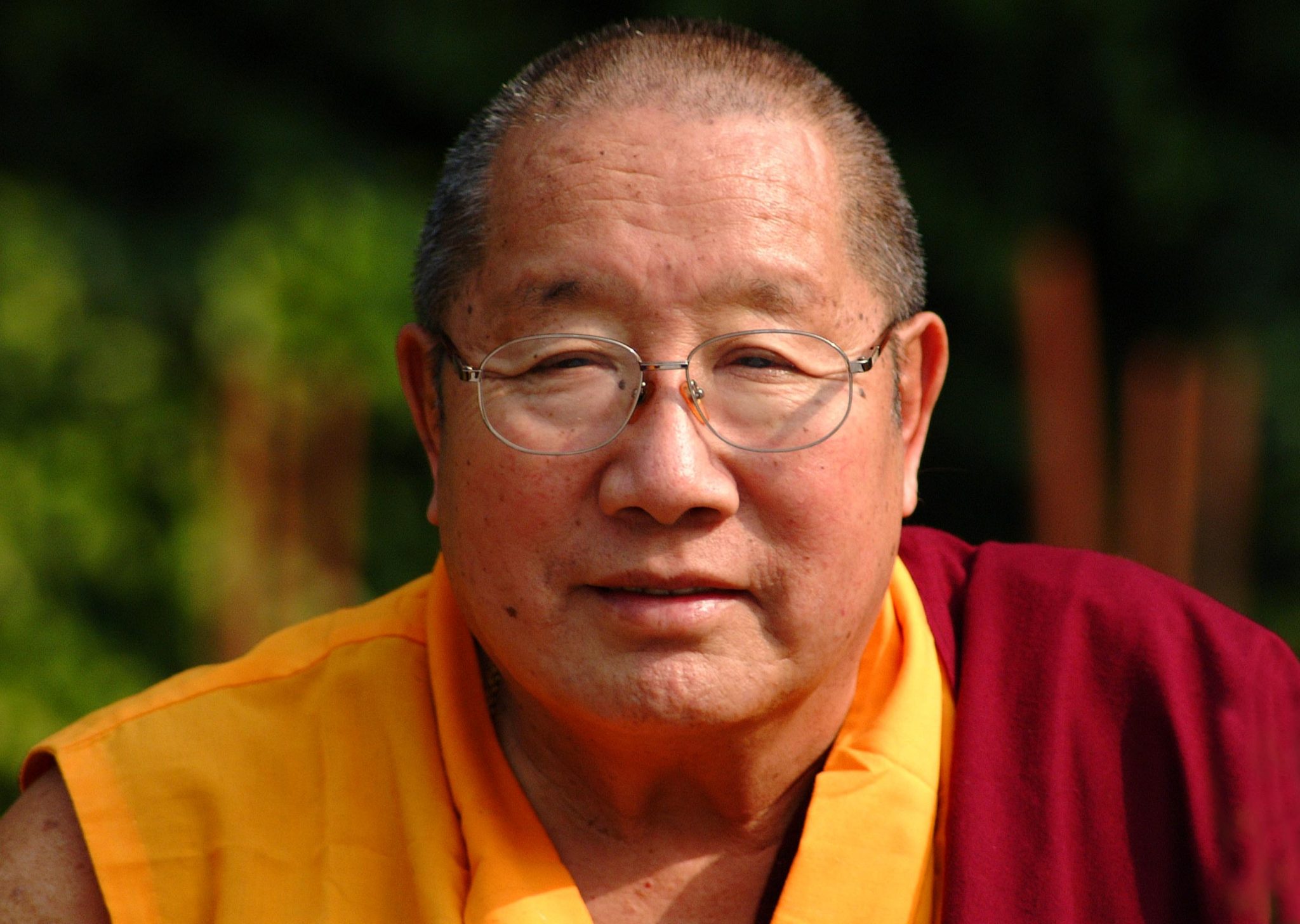 Kyabje Penor Rinpoche founded the Upstate NY Retreat Center around 1998 and guided a program of study and meditation, that continues today, much alike one in the Palyul Namdrolling Monastery of South India, for a number of years. For each attendee there were ways to receive instructions as a part of the group in the main temple and in relationship to their individual practice. It would not be an understatement that this unique month long summer retreat would culminate in a series of interviews with the Rinpoche and Khenchen Tsewang Gyatso. And so it came to pass that in 2003 while taking just a few days off work in the City I journeyed upstate to ask with my head bowed and palpable taste of angst: "Rinpoche, I really would like to become a monk and there seems a lot of obstacles to that". With very happy air Rinpoche bowing his head in approval again and again spoke smiling, telling me that I should not worry, for it is clear to him that over time, slowly, slowly all the obstacles will be resolved and everything will be better.
So, in some way Rinpoche told me everything that I wanted to hear and nothing that I knew. This timeless wisdom of giving simple, correct advice can not be more honest. And while at the time it felt too simple or too general, my utmost respect for the great lama and actual passage of time turned this into a teaching on how to respect what we call problems or obstacles, how such become similar to the trees when one travels in a wooded area, the trees work as road signs and understanding that one is getting closer to the destination makes one appreciate seeing each one of them, in passing.
At around this time during 2009 from about March 27th to about April 3rd Kyabje Penor Rinpoche abided in the tukdam meditation while in South Indian Palyul Namdrolling Monastery.
Here is an exerpt from one of the public updates that were provided: "…The 11th Throneholder of the Palyul Lineage of the Nyingma School of Tibetan Buddhism, His Holiness Penor Rinpoche, entered the final stage of meditation at 8:20 PM on Friday, March 27, 2009, at the Palyul Namdroling Monastery in Bylakuppe, South India.
Earlier at noon, His Holiness received offerings from many of the highest Nyingma Lamas, Tulkus and dignitaries who had assembled to pay homage to him. Rinpoche left Columbia Asia Hospital at 3:30 PM with the help of the Bhutanese Government, who arranged a police escort. He reached Palyul Namdroling at 6:40 PM and remained on his bed at the residence. Tulkus, Khenpos and lamas did aspiration prayers together with His Holiness until 8:20 PM. At that time Rinpoche looked around and then closed his eyes and went into meditation.
Prayers continued for 5 minutes and then everyone remained in silence for the next two hours. His Holiness' meditation continues today,…"
Thank you for reminding us all that there is such a wonderful thing as passage of time and that at this time this great online service has turned two years old. As time passes, it seems to me now that it is the direction that we seem to be headed, all that matters and never the speed, effectiveness of the travel method or seeming stress that lack of instant arrival may cause. With that I make aspirations that I and anyone one connecting to this story may glimpse some of the great calm and wisdom that I feel I came ever so close, to almost feel in an Embodiment of this great master, anniversary of whose passing from the body of that life coincides with the anniversary of the founding of the Levekunst. Picture attached is Kyabje Penor Rinpoche on the lawn in front of the NY upstate Retreat Center at the end of 2004 summer retreat.

Featured image provided by the author.