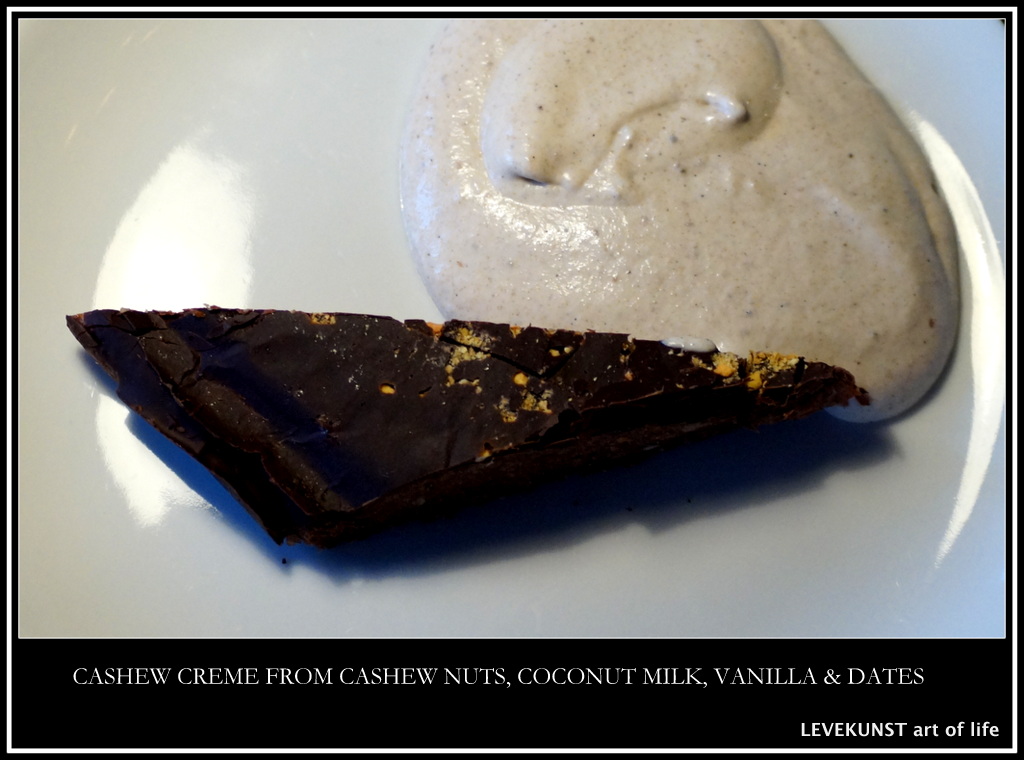 We have reasons to celebrate, perhaps good friends are coming by, perhaps the family is getting together or maybe for a feast in a spiritual practice. Here is a way to make it extra special. This is not sugar candy. It's the essence of life among healthy desserts. Enjoy the easy-to-make gluten free raw almond orange truffle and as an aside, add cashew creme.
To make the basic:
100 g of almonds
100 g of hazelnuts or other nuts
2 big tablespoon coconut oil
2 tablespoon raw cacoa powder
15 Medjool king dates or 25 pitted dates.
Soak the nuts, if you have the time, for 12 or 24 hours in order to begin their sprouting process. Change the water 3 times during the soaking period. Let the nuts dry off a little bit afterwards. This can be done nearby a heating source or in a oven with 42 degrees for 1/2 hour. Hazelnuts become extra wonderful when they are roasted on a dry pan. Then it's also easy to remove their skin.
Chop the nuts separately in a food processor. Set them aside.
Now blend the coconut oil with the dates for 3 minutes in the food processor.
The longer you blend the better and more caramelized the paste becomes.
Then add all the nuts. Blend the whole thing again for a little awhile.
Flatten the truffle paste, about 2 cm in height, between two sheets of baking paper. Leave it in a refrigerator for an hour. Then it's ready to be served.
To make it even more delicious take 100 grams of  70 – 80% dark chocolate. Add some grated organic orange peel. Heat it up in a water bath so the chocolate doesn't boil. Let it melt and then pour it over the truffle paste.
Keep a little extra grated orange peel to sprinkle on to give the chocolate color and flair.
Cut into squares and store the goodies in the fridge.
If you want to try it with a cashew creme, here is a recipe: soak 2 big cups of cashews for 12 hours. Change the water three times in the making. Blend the nuts with 3 dates.  Open a can of coconut milk and add it in. Add a half teaspoon of vanilla. Stir well with a wooden spoon. It's ready. Serve it with the freshly made almond truffle.
It does matter what type of chocolate you use, if you want to capitalize on its good qualities. Dark chocolate with a cocoa content of at least 50 percent contains so-called flavonoids, which lowers blood pressure and prevents cholesterol. Some studies also show that the flavonoids may protect against cancer. Green tea has the same effect, but dark chocolate contains an exceptionally large amount.