The beauty of transmission: A student, an assistant and a living national treasure. In South Korea the government supports skilled craftsmen financially, so they can focus solely on their arts and crafts during their productive years. Han Sang-Soo was such a living treasure, designated by the Cultural Heritage Administration – exactly number 80 out of many fine craftsmen and women mastering various arts. She died a few years ago, having worked 60 years with embroidery: collecting old pieces, copying, mending and creating new ones. The following is a quotation of Han Sang-Soo.
"When I was a beginner I concentrated only on making smooth and attractive stitching. But with time and experience, you gain maturity. Then the stitching comes not from the end of the needle but from your mind. At this stage it is not your hand that controls the needle; rather the needle goes wherever your mind directs it. And when you have reached this stage the work becomes effortless."
The living national treasure handed down all her knowledge and love for the art of embroidery to her assistant through 40 years, Kim Young Yi, whom I was so lucky to meet last October in Seoul at her workshop, together with a translator.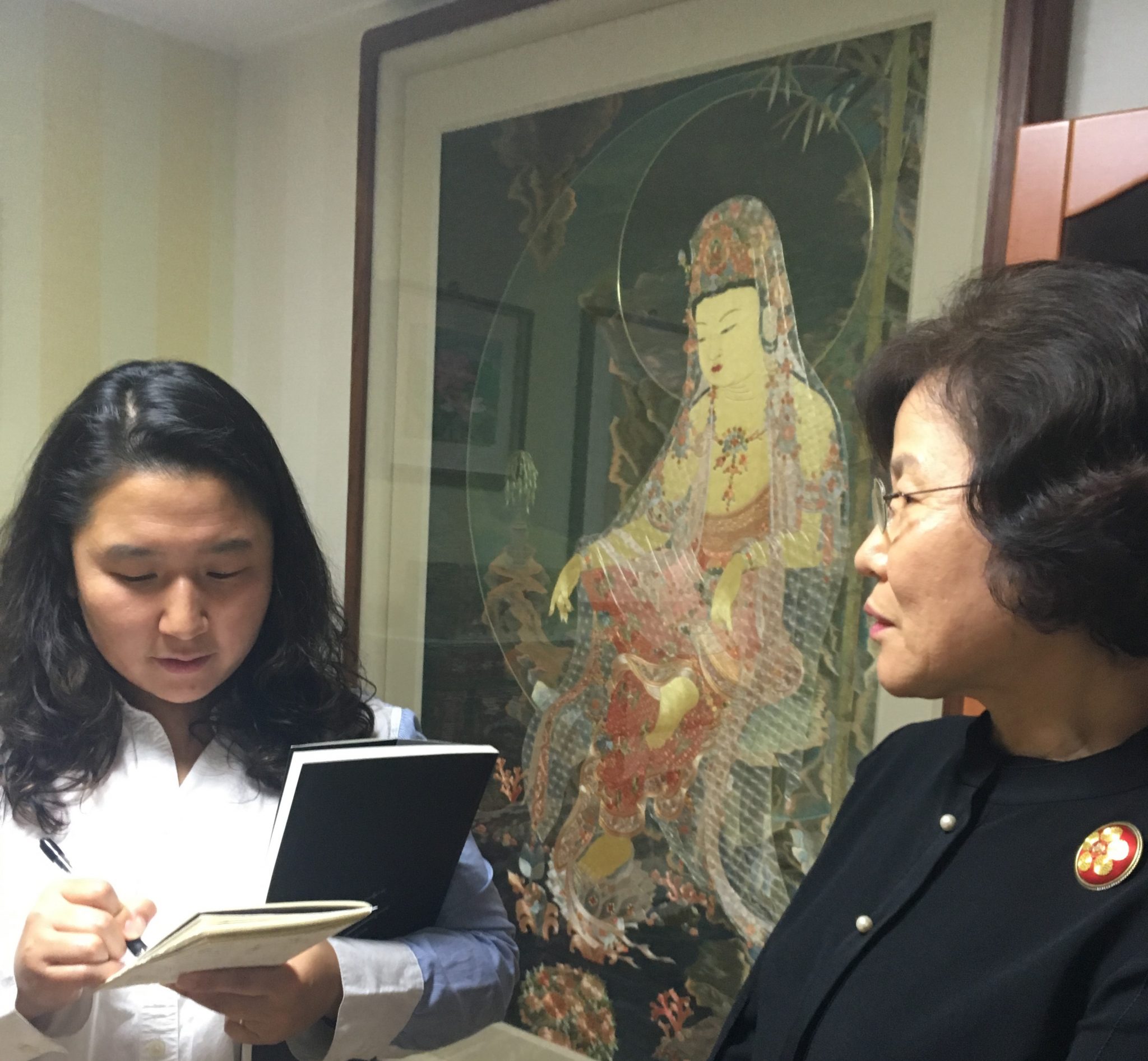 Like pixels on a carefully singled out piece of cloth in a wooden frame
Kim Young Yi actually received an award from the government for the Gwan Yin bodhisattva embroidery in the middle of the above photo. And one can easily understand why for various reasons. It is a pure delight to the eye to look at the aesthetic and delicate colorful details of the bodhisattva sitting in royal ease pose. Notice the transparent double nimbus and gauzy robes. The needlework itself must have been time consuming, demanded patience and mindfulness.
Kim Young Yi says, that the national treasure Han Sang-Soo gave her more than she deserved; "She even called me her sister". The respect and admiration for her master has been expressed in such a way, that not until now will Kim Young Yi arrange an exhibition showing her own master embroideries. "I could not do that while Han Sang-Soo was still alive and needed my assistance", she said.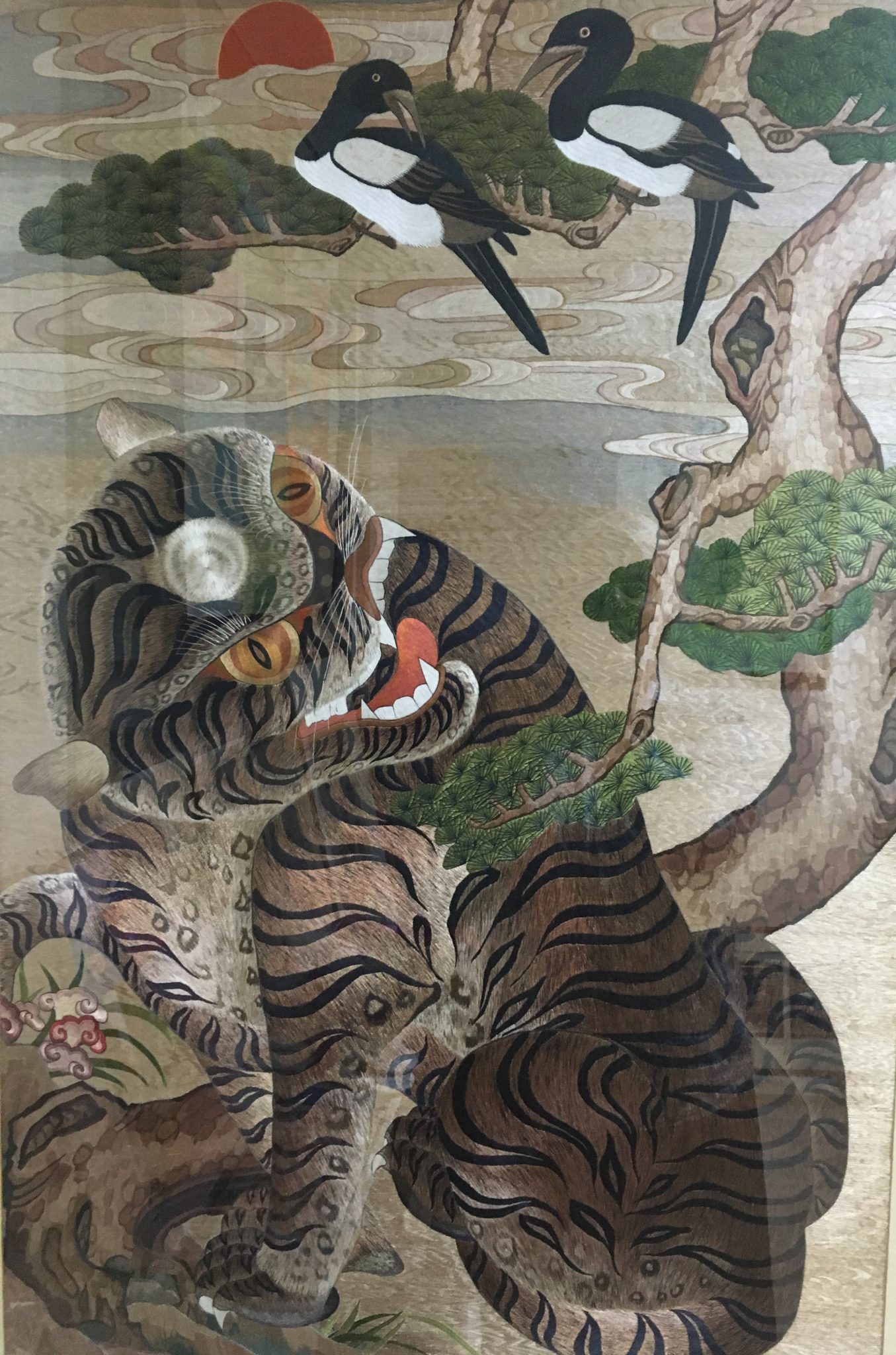 Motives in Korean folk painting often express humor and dynamic, and the assistant is certainly able to get the same dynamic expressed through her needle and threads. The tiger is not able to reach the magpies and is showing its displeasure by scowling at them. Kim Young Yi is concerned about the future of embroidery- arts and crafts, and is teaching in small workshops in Seoul. She would like traditional embroidery to be harmonised with the modern generation's creativity and skills.
Lotusplants in progress
Blue, green, pink etc. one of the students at the workshop, a lady in her fortieth has diligently twisted the threads to be use in the large lotus embroidery.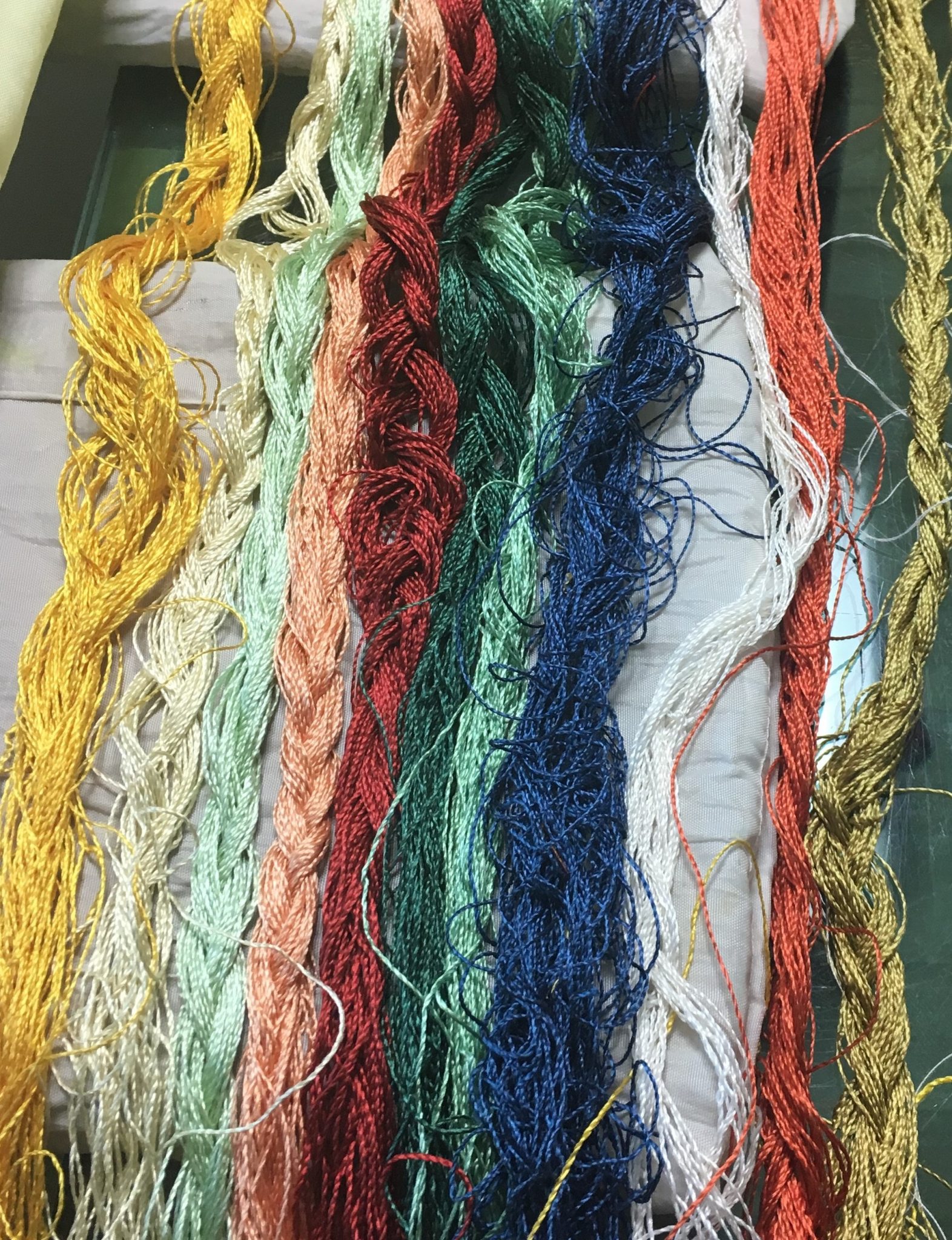 For an Asian eye the motives in the embroideries are full of meaning. Take for example the folding screen panel showing playful carps. A work the old national treasure Han Sang-Soo embroidered. The motive can be interpreted I several ways: Abundance, harmony, perseverance and prosperity. For any viewer the work itself exrude hard work and aesthetics.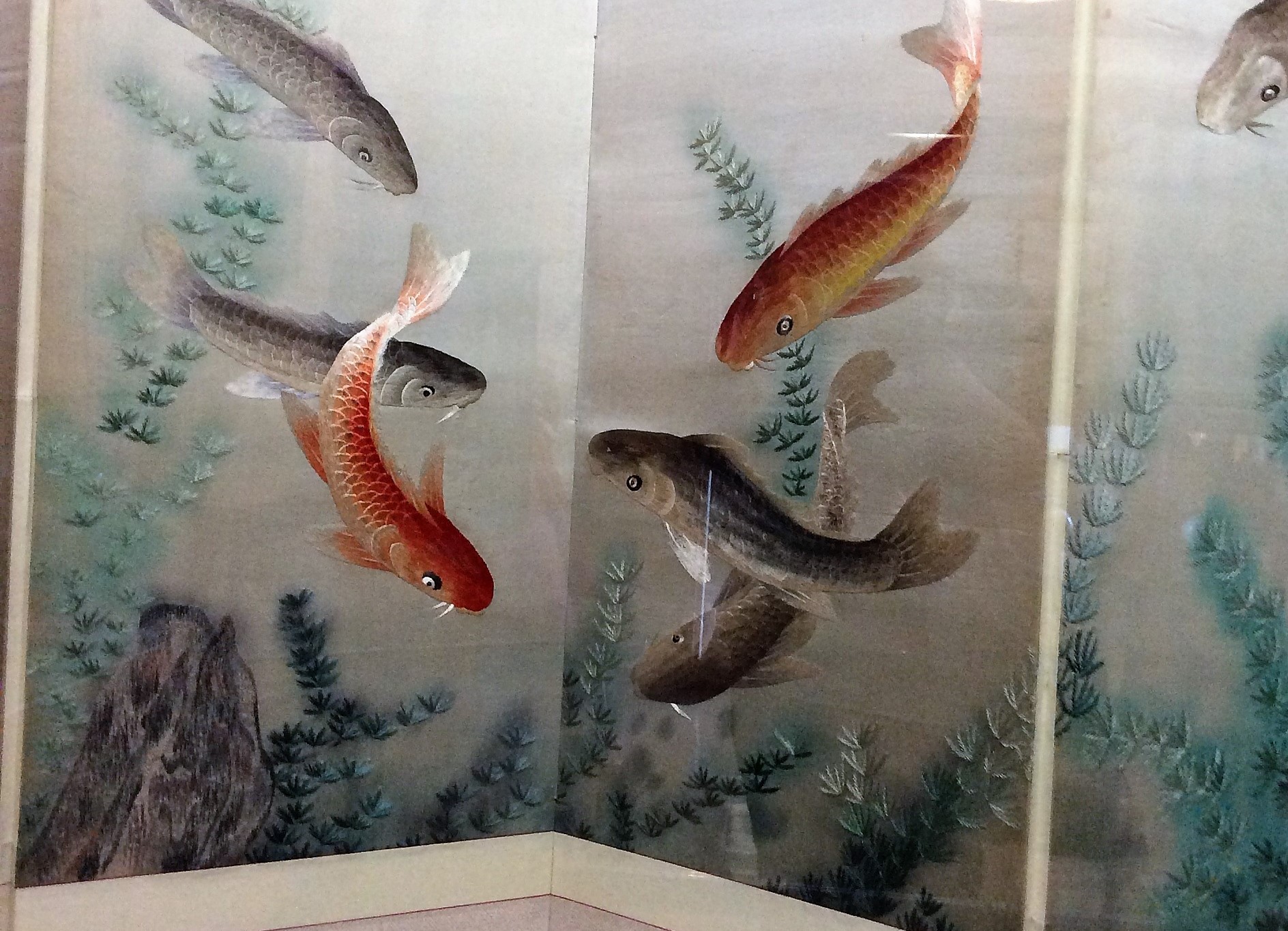 Photos supplied by the author.